Dr. Somdatta Chakravortty
Associate Professor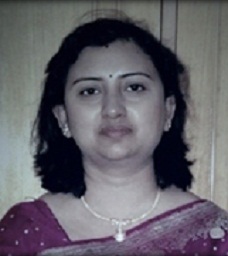 About Dr. Somdatta Chakravortty
Degrees conferred
| Degree | Institution conferring the degree |
| --- | --- |
| B.Tech. | Kanpur University, Kanpur, India |
| M.Tech. | Bengal Engineering and Science University, Shibpur, Howrah, West Bengal(presently IIEST), India |
| PhD. (Tech.) | Calcutta University, Kolkata, West Bengal, India |
Teaching/Industry Experience (in chronological order)
| Duration | Institution | Name of work done |
| --- | --- | --- |
| 1st September, 2018-till date | Maulana Abul Kalam Azad University of Technology, West Bengal(MAKAUT,WB) | Associate Professor in Information Technology |
| 7h May,2008-31st August, 2018 | Govt. College of Engineering & Ceramic Technology, Kolkata | Assistant Professor in Information Technology |
| 1st September, 2006-6th May,2008 | Heritage Institute of Technology, Chowbaga Road, Anandapur. | Lecturer in Information Technology |
| 1st August, 2004-31st August, 2006 | MCKV Institute of Engineering, Liluah, Howrah. | Lecturer in Information Technology |
| 11th April,2003-31st July, 2004 | Dr. B.C. Roy Engineering College, Durgapur | Lecturer in Information Technology |
| July, 1997-June, 2000 | Consulting Engineering Services(India) Limited, Kolkata | Assistant Engineer |
Blogs
Geo-Informatics
Research Activities
Publications:
View at
Research Gate
View at
Google Scholar
Book Chapters


Ghosh D., Chakravortty S. (2020): Change Detection of Tropical Mangrove Ecosystem with Subpixel Classification of Time Series Hyperspectral Imagery, Artificial Intelligence Techniques for Satellite Image Analysis, Springer,(book chapter) , pp 189-211.
Chakravortty S., Ghosh D., Sinha D.D.(2018): A Dynamic Model to Recognize Changes in Mangrove Species in Sunderban Delta Using Hyperspectral Image Analysis, Progress in Intelligent Computing Techniques: Theory, Practice, and Applications(AISC Series book chapter), Springer,59-67.
Chakravortty, S. and Bhondekar, A.(2018): Spatial and Spectral Quality Assessment of Fused Hyperspectral and Multispectral Data in Lecture Notes Computational Vision: Biologically Rationalized Computing Techniques for Image Processing Applications(book chapter), Vol. 25,978-3-319-61315-4, 434690_1_En (7).


Chakravortty, S. (2010): Application of Fuzzy Logic for Pest Management in Agriculture In: Environment Concerns (D. Dasgupta eds.) Agrobios (India), ISBN: 9788177544282, pp 215-222.
Chakravortty, S. (2008): Fuzzy Logic and Water Quality Management. In: Environmental Management, Economics & Technology (R. Sen eds.) Levant Publications, ISBN: 978-81-908064-7-3, pp 197-211.

Reviewer of International Journals
IEEE Journal of Selected Topics in Applied Earth Observations and Remote Sensing
ISPRS Journal of Photogrammetry and Remote Sensing, Elsevier
IEEE Journal of Selected Topics in Applied Earth Observations and Remote Sensing
Journal of Applied Remote Sensing, SPIE;
Ph. D Students Registered:
Ms. Srirupa Das
Mr. Prem Kumar
PhD Students Enrolled:
Ms. Dipanwita Ghosh
Ms. Deepika Dhara
M.Tech. Dissertations Guided:
25
Research Projects
| Funding Agency | Type of Project | Project Title | Role in Project | Grant Sanctioned (Rs.) | Duration |
| --- | --- | --- | --- | --- | --- |
| Department of Science & Technology, Govt. of India, New Delhi | Major Research Project | Development of algorithms for spectral unmixing and sub pixel classification of hyperspectral image data | Principal Investigator | 35,024,000/- | April'2016-September'2020(ongoing) |
| University Grants Commission, Kolkata | Major Research Project | Digital Image Processing of Hyperspectral Data for Pattern Recognition and Change Detection of Saline Blanks and Associated Mangrove Species : A Case Study of Sunderban Biosphere Reserve, West Bengal | Principal Investigator | 12,08,000/- | 2015-2018(completed) |
| Department of Science & Technology, Govt. of India, New Delhi | Major Research Project | Development of Hyperspectral Image Classification Algorithm for Tropical Mangrove Species Discrimination in a Mixed Stand : A Case Study of Sunderban Biosphere Reserve, West Bengal | Principal Investigator | 25,00,000/- | February'2011-August'2015 (completed) |
| University Grants Commission, Kolkata | Minor Research Project | Application of Image Processing and Computer Simulation Modelling for Assessment of Carbon Sequestration Potentiality of Sunderban Mangroves, West Bengal | Principal Investigator | 2,00,000/- | December'2010- July, 2012 |
| All India Council of Technical Education, New Delhi | MODROBS scheme | Development of Image Processing & GIS Lab | Co-Project Coordinator | 10,00,000/- | February' 2010- February'2013 |
| All India Council of Technical Education, New Delhi | MODROBS scheme | Development of Image Processing & Computer Vision Lab | Co-Project Coordinator | 9,00,000/- | June' 2011 – June'2012 |
Professional Activities Membership in Professional Societies:
Indian Society of Remote Sensing
Institution of Engineers
Computer Society of India
Association of Engineers